Fasting, Ramadan and running: How do you do it?
Is it possible to fast and run during Ramadan? That's the question many Muslim runners encounter as they approach the Holy Month. At the beginning of Ramadan 2021, we reached out to Moseem Suleman, member of Run Grangetown and observer of Ramadan.
Ramadan is the Arabic name for the ninth month in the year. This is not the same every year, because Islam uses the cycles of the moon to determine its calendar. Muslims fast during Ramadan as an act of worship and to devote themselves to their faith. During Ramadan, it's common for observers to have one meal just before sunrise – and another just after sunset. In the UK in 2021, Ramadan begun on Monday 12 April and will end on Tuesday 11 May.
We asked him some questions about his experiences and stories of running during Ramadan. Here's what he had to say.
Q: How do you adapt to running while observing Ramadan?
Moseem: I have to plan my runs, and never go for a run on the spur of the moment. I run at least 2 hours before I have to break fast, so that I know it won't be long, before I can hydrate and eat.
Q: What advice would you have for someone who has recently taken up running and will be attempting to run during Ramadan for the first time?
Moseem: I would say it is totally fine to run. Ensure you eat good, clean food. Limit salty, sugary and fried food. I would recommend a lot of fruit, and slow releasing foods like brown pasta and porridge. This will give you the energy for the run. Try a short run to see how you feel, and try and run at a steady, consistent pace. If you feel ok with that, you can slowly increase your distance. Our bodies are amazing, and your body will use your fat energy stores to give you the energy you need. Even when I have felt very tired, by the end of the run I feel full of energy and no longer feel as hungry.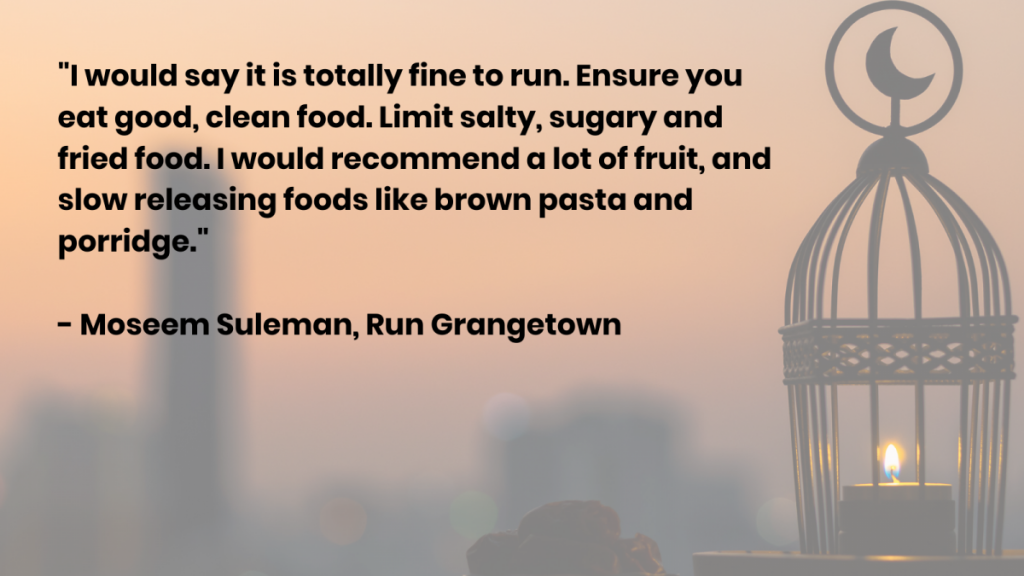 Q: Does running during Ramadan feel more meaningful and give you a greater sense of accomplishment and peace?
Moseem: Yes, definitely. The purpose of Ramadan is to do it while doing your normal day to day things. I get loads of praise from my running buddies for doing it as well, which helps my ego! Spiritually, I do feel good, knowing that there is a greater purpose I am fasting for, and striving during this time makes it feel very special. It is about cleansing the mind, body and soul. Running during this time cleanses my body, but also helps me mentally, believing that if I can do this, then I can overcome any obstacle in my life.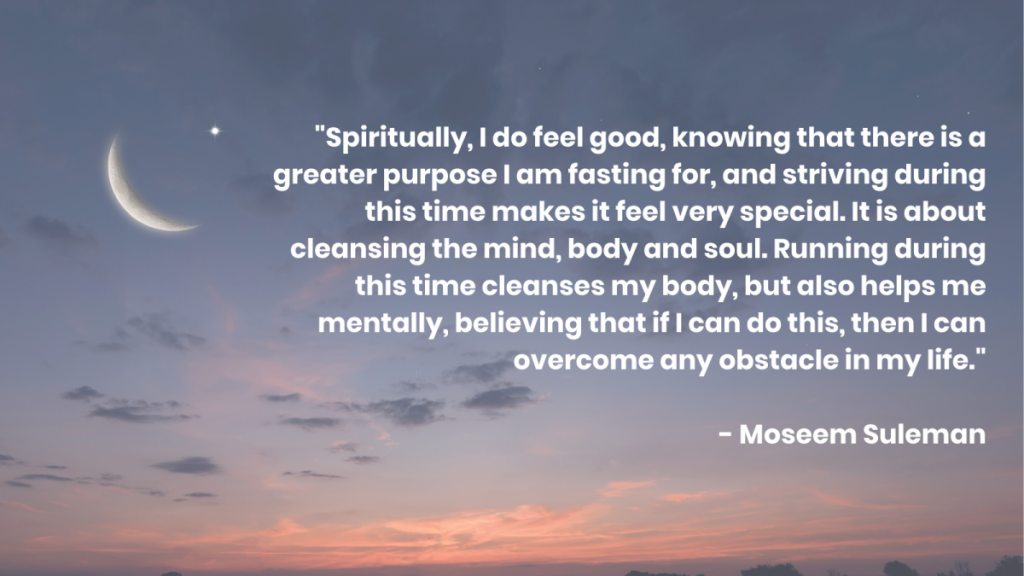 Q: Do you keep up your running schedule during Ramadan?
Moseem: No, I adapt it so that I am not running early in the day during the fast, I don't want to risk breaking my fast due to me being unwell, so I run as close to the time of eating as possible. But I still try and run a minimum of twice a week.
Q: How was your half marathon training experience during Ramadan, and did you change anything?
Moseem: This was during July and August, as I was training for the Swansea Half, which was a week after Ramadan, so I didn't want to lose my rhythm of running. As you can imagine, it was really hot. There were a few of us doing it, so it was nice running with others. They all supported me, and planned the runs a little later to accommodate me. I think I over did it, as I ran an 11 miler, on a really hot day. This caused me to be really dehydrated and ended up causing a muscle injury. I learnt a lesson of not pushing it that much again on such a hot day. I still managed to do the Swansea Half, but the injury returned on my last couple of miles, and I missed out on a PB.
Moseem: I wanted to mention all the runners at my local running club, Run Grangetown, Cardiff, who have always supported me getting through my runs during Ramadan. I think having a good running club is really helpful for anyone running, especially in Ramadan. I don't think I would have run as much without them! Thank you guys!
Back to news