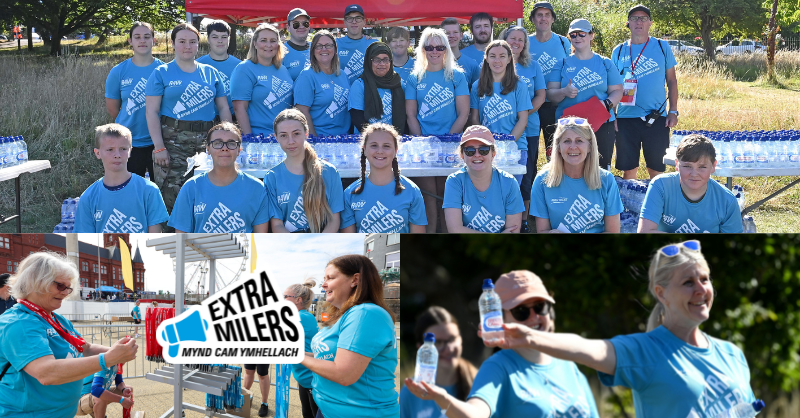 YOU DON'T NEED TO RUN TO BE PART OF SOME OF THE BIGGEST MASS-PARTICIPATION EVENTS IN WALES!
Does your organisation offer paid volunteering days? To find out how your team can have a new experience, make a positive impact on our local communities and make a difference, email us now to discuss volunteering opportunities with Run 4 Wales.
For over ten years, Run 4 Wales has been working with local businesses and community groups in and around Cardiff to successfully deliver some of the most exciting road races in Wales. We are a not-for-profit social enterprise and charitable trust set-up to promote, manage and deliver major sporting events. We could not do what we do without the support of our volunteers.
We offer tailored corporate volunteering days to suit your team, no matter how large or small. Get in touch now to discuss your requirements and have a chat about which volunteering role you would like to do.
Depending on the size of your team or organisation, you can take over a water station at the Cardiff Half, handing out water to 27,500 runners as they pass by, look after a section of the course at the Newport Marathon to direct and motivate runners, help out at the Runners Bag Drop tent at one of our 10K events or be on the Finish Line handing out medals and t-shirts to elated runners.
What is CSR?
Corporate Social Responsibility is when a company considers how to operate ethically, sustainably and responsibly, taking into consideration its impact on the environment, society and community within which it operates. One way to think about this is for a company to consider how to produce an overall positive impact on the environment and society.
Often associated with large corporate entities, CSR is now something that businesses of all shapes and sizes seek to incorporate into their overall strategy.
Corporate Volunteering with R4W
Here at Run 4 Wales we offer employer supported volunteering (ESV) programmes that successfully meet the needs of corporate social responsibility, creating a fun and practical experience for your team while delivering a real contribution to your local community. Corporate volunteering offers a great chance to get out of the office if your team is office-based or bring them together in a fresh environment if they are home-based. Volunteering at a Run 4 Wales event helps your team have fun, learn new skills and promotes mental and physical well-being by having a day outdoors. Being part of a mass race, seeing thousands of runners achieve their dreams, is an uplifting and inspiring experience.
Choose to volunteer at one event, creating a fun team-building day to recharge those batteries, renew connections and enjoy a rewarding day out. Alternatively, choose to create a longer-lasting relationship with us and volunteer at a number of our events throughout the year. Your contribution can be large or small, for example with just ten people supporting at the Finish Line or up to 60 people taking over one of the water stations on the course route.
WHY VOLUNTEER WITH R4W
Share an experience you can take back to the office
Provide a deeper connection to your local community
Create stronger relationships within your team
Show your commitment to local causes
Have a fun and engaging experience together outside the office
Feel motivated and uplifted by sharing in the exhilaration of runners achieving their goals
We can accommodate your group no matter how big or small
Have a front-row seat to the biggest running events in Wales
Click here to read an article about the benefits of volunteering.
Established in 2012, Run 4 Wales has grown into one of the UK's best-known mass participation event organisers, driven by a desire to deliver world-class events with a positive social agenda. Our events provide a platform to champion mental health, women's running, community regeneration, diversity, volunteering, fundraising and environmental sustainability. Our surpluses are invested into grassroots sport and community projects through our charitable foundation.
Choosing to volunteer with Run 4 Wales will put your organisation at the heart of our activities, contributing to a positive social agenda and promoting mental and physical wellbeing amongst your team. We'll make sure everyone has a fun and positive volunteering experience, making a much valued contribution towards event day and with support and direction from one of our experienced Run 4 Wales supervisors.
JOIN THE EXTRA MILER community – sign up for a corporate volunteering day with R4W
Organising a corporate volunteering day with us is easy. Send our Volunteer Coordinator Tor an email telling us a little more about your group and what you want to get out of volunteering. We'll let you know what events are coming up and discuss the best role for your team. Once you've completed a sign-up sheet, we'll send you a volunteer briefing sheet with everything you need to know about event day. Then all you need to do is turn up on the day and get involved!
If you'd like us to come along to your office or place of work to discuss volunteering in person, we're happy to do so.
Check out our socials to see how important our volunteers are to us: