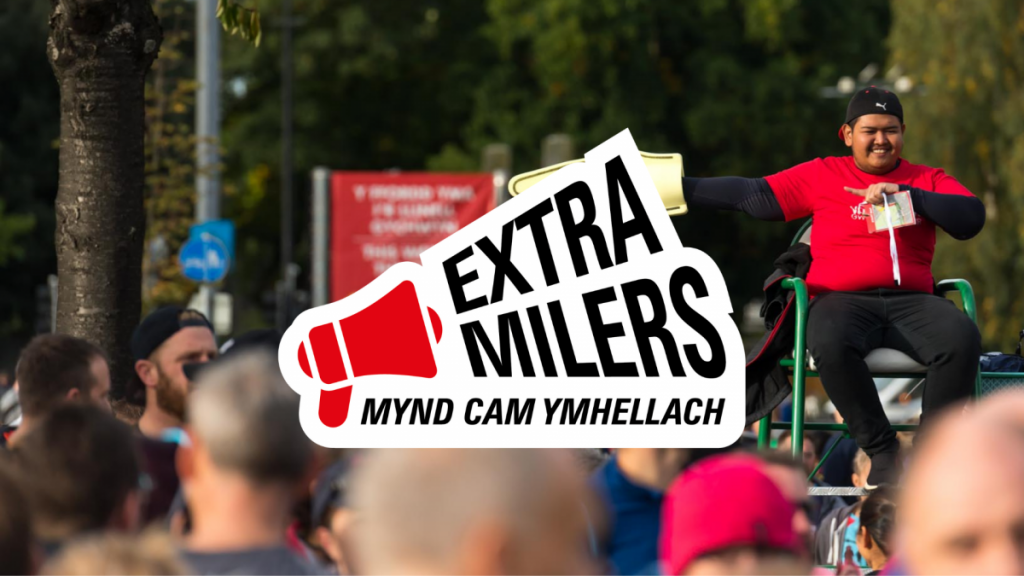 You don't need to run to be part of some of the biggest mass-participation events in Wales!
Our volunteers, better known as the Extra Milers, are essential in making sure that Run 4 Wales race days are a huge success. You don't need any special skills to become an Extra Miler, just be reliable, flexible and have lots of enthusiasm!
Want to know how to become an Extra Miler? Get in touch with our Volunteer Manager, Tor, on volunteers@run4wales.org, or sign up below.
Extra Milers will be provided with uniform, breaks, refreshments, training through a supervisor as well as the support and training you need to undertake your role.
Volunteering is a great way to experience the electric atmosphere of race day, have fun, make friends and enhance your CV. If you're a local community or youth group that might be interested in getting involved across our events, we'd love to hear from you!
*PLEASE NOTE: The minimum age for volunteering is 14. All 14-17 year olds must have a completed parental consent form and be accompanied during their volunteering by someone over the age of 18 (as agreed by a parent/guardian) **
What is volunteering like?
Check out this video filmed at the World Half Marathon in 2016 to find out more about volunteering:
Volunteer Roles
Volunteer at Run 4 Wales Events
If you have any questions, please contact Tor: volunteers@run4wales.org / 02921 660 790
Be sure to follow our Facebook page, where you can get social with other Extra Milers ahead of race day.
Volunteered with us before? Check out our Flickr photo albums with photos from event days!