R4W Award Mud Kitchen To Nursery With NSPCC As Part Of R4W Ten Year Celebrations
Wizz Air Cardiff Half Marathon event organisers R4W have collaborated with its lead charity, NSPCC, on a mud kitchen giveaway, which has been awarded to a pre-school nursery in Monmouthshire, Alphabet Playgroup. The playgroup is a non-maintained local education nursery for children from ages 2.5 until they start school. As a team, Alphabet work together in a shared vision to provide a nurturing, encouraging and child-centred environment with positive relationships and wellbeing at their core.
At Alphabet and crucially to R4W and NSPCC, learning is led by the child and driven by their own motivation and curiosity.
As part of R4W's tenth year of delivering events in Wales, they're celebrating in style with ten random acts of kindness across Wales. In early June, a competition was opened to celebrate NSPCC's National Childhood Day, where the public were asked to nominate a school or early years organisation to be the recipient of a mud kitchen.
Mud kitchens have become a popular outdoor setup for children, favoured for their ability to encourage pretend play outdoors and mirror a grown up kitchen with play ovens, stoves, shelves and hooks to hang cooking utensils. They are the perfect spot to concoct a mud pie or potion using a number of natural items– the messier the better.
Childhood Day, the NSPCC's flagship day of fundraising and action held on 10 June 2022, brings people across the country together to celebrate the importance of childhood, have fun and fundraise. Our competition was launched on Childhood Day to commemorate the day.
The gift from R4W to celebrate NSPCC's National Childhood Day, also helps reinforce the importance of positive early childhood experiences in play.
Emily Reynolds, Fundraising Manager at NSPCC commented:
"We are delighted that R4W supported Childhood Day, our flagship event of fundraising and action, with such a thoughtful competition.
"The mud kitchen will provide a space for children to play and have a lot of fun, as well as being an important tool for learning.
"This is extremely fitting, because Childhood Day is about bringing everyone together to celebrate childhood, as well as protecting children."
Alphabet founders said: 'We are so grateful to R4W for choosing us from the nominations to receive the mud kitchen. A mud kitchen is a perfect outdoor resource for the children to support them in their exploration. The children will have the opportunity to access the mud kitchen during their free play time, we know that they are going to have so much fun.'
The R4W Random Acts of Kindness campaign aims to deliver good across Wales through 2022, so keep posted for the next act of kindness.
A massive thank you to The Penarth Wood Company Ltd for making the mud kitchen.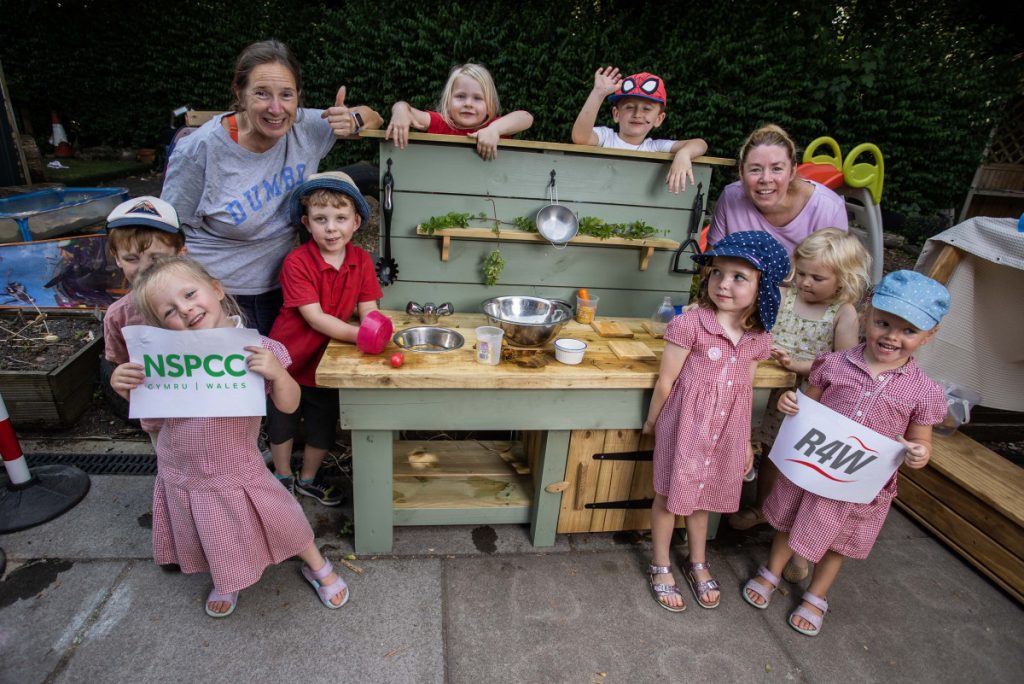 Back to news