Walk, jog, push or run 1 mile and help us prove that Wales can be an Active Nation!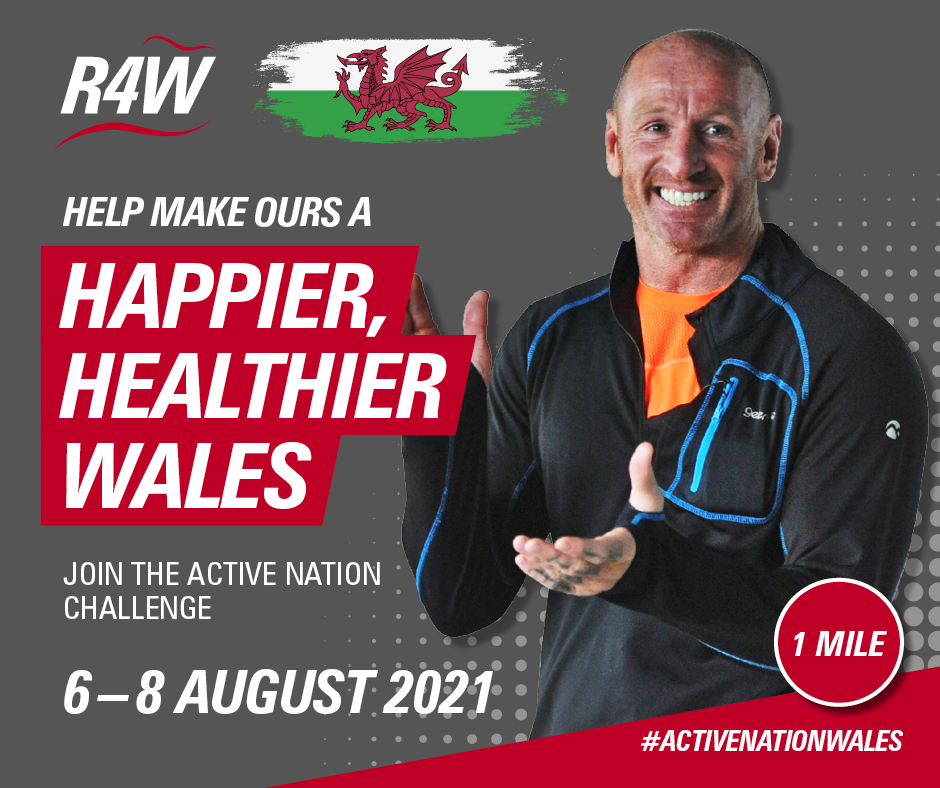 Summary
Wales is a small but proud nation that certainly punches above its weight.
We may be a land of just 3.1 million people, yet we boast world-class rugby and football teams, are one of the most successful Paralympic nations (per capita) in the world and are home to one of the oldest living languages in Europe. We're the only country on earth with a continuous marked coastal path and our recycling rates are behind only Germany and Taiwan globally.
But where do we rank in terms of physical activity? Unfortunately, here the results are a little less inspiring. Our children are amongst the least active in the world – with only 13% managing recommended levels of physical activity and 61% of our adults are overweight or obese. Our disabled children are 35% more likely to be obese than their non-disabled peers. The problem has worsened during the COVID-19 pandemic, with whole sports programmes and facilities closed for months at a time.
At R4W, we're proud to be Welsh and passionate about the benefits of physical activity and the power it has to change lives through improved physical and mental wellbeing. Through events like the Cardiff University Cardiff Half Marathon we've inspired hundreds of thousands of people to get active, but we need to do more – we're going to need a bigger movement that can inspire long-lasting change.
It's why we're launching the Active Nation Challenge.
With some help from our friend and Welsh rugby legend Gareth Thomas, we're challenging the people of Wales to join us between 6-8 August and get moving.
We want to get as many people as possible from all over Wales signed-up to the challenge and prove we can over-achieve in more than just professional sport and recycling!
HOW DOES IT WORK?
• Pledge to be a part of our virtual Active Nation; help make ours a happier, healthier Wales
• Sign-up to walk, push, jog, or run a mile between 6-8 August – entry is free
• Encourage as many people you know to get involved too – anyone can do it!
• Help a friend or family member train to complete the mile – we need everyone!
• Sign-up your workplace, school or sports club – download a pack
• Complete your mile, alone or with family and friends, then upload your finish-time
• See your name added to the All-Wales Leaderboard
• Claim discounts on sportswear, nutrition and training products from R4W partners such as Healthspan, Runderwear and 2XU
WHY IS IT IMPORTANT?
Sport and physical activity can play a major role in lowering the risk of cardiovascular disease, certain cancers, type 2 diabetes and obesity. It improves our mental health and wellbeing and delivers a happy, healthier lifestyle. Physically inactive individuals spend an average of 38% more days in hospital, make 5.5% more GP visits, access 13% more specialist services and 12% more nurse visits than an active individual (source Future Generations Commissioner for Wales)
SUPPORTER PACK
We've created a supporter pack that can be downloaded here. It includes assets that you can use to help us promote the challenge, share that you are taking part on social media or encourage your family, friends, workplace or school to get involved.
Download a graphic and share it on social media or share this campaign page in a post or group chat.
PHYSICAL ACTIVITY GUIDELINES
Chief Medical Officer for Wales, Dr Frank Atherton is supporting the Active Nation campaign. You can view the UK Chief Medical Officers' physical activity guidelines here.
TAKING PART
You can participate from any outdoor location, or on a treadmill from any worldwide location. You'll just need to collect some supporting evidence that you have covered the 1-mile distance such as a photograph of gym equipment, Google Map route or a screenshot from a smartwatch or GPS activity. You can walk, jog, push or run the distance.
The challenge will run between 6 – 8 August 2021. You can participate any time during this window but must submit your result by midnight on 9 August.
SUPPORTERS